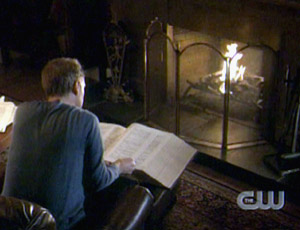 Sam finally gets a look at his contract with The Devil, but it's in Latin and thousands of pages long.
Synopsis
Sam and his crew must deal with a 'toxic revenger' when the slime-covered escaped soul of a chemical company's CEO starts taking human lives. Meanwhile, the Devil delivers a copy of Sam's contract as promised... but it's a few hundred pages longer then Sam expected. The Devil also refuses a request by Mr. Oliver to a meeting, while Sam continues to drift apart from Andi after Satan sets him up to look like a bad guy in front of Andi.
Ratings
This episode earned a 1.8 household rating from Nielsen Media Research.
Cast
Regulars
Guest starring
Co-starring
| | |
| --- | --- |
| Previous episode: | Next episode: |
| "Magic" | "Leon" |