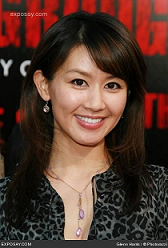 Eriko Tamura (田村 英里子|Tamura Eriko) plays Kristen. She was born January 16, 1973, and is a Japanese actress and singer. The animated television show Idol Densetsu Eriko (Legendary Idol Eriko) was based on her.
Tamura has starred in over 15 films and television series in Japan. She has enjoyed remarkable success as a singer as well, and is known as the Japanese Britney Spears, having released 10 original albums and 15 singles from Toshiba EMI.
She has appeared in Heroes as Princess Yaeko, the swordsmith's daughter. She is also a producer and host for JATV.
Tamura has recently been cast as a leading role Mai, in the Dragonball Evolution based on the manga, Dragon Ball.
Source: